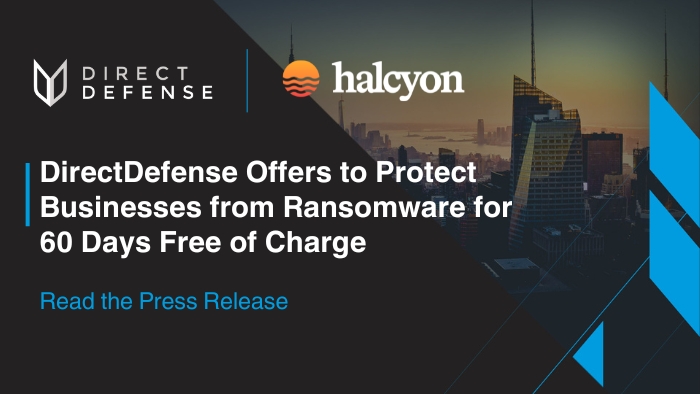 DirectDefense Offers to Protect Businesses from Ransomware for 60 Days Free of Charge
Via its strategic partnership with Halcyon, DirectDefense will manage proven tools to stop ransomware in its tracks
DENVER – Aug. 8, 2023 – DirectDefense, a leading information security services company, today announced a 60-day free offer to protect any business from ransomware. Leveraging the Halcyon anti-ransomware platform, DirectDefense will help businesses better detect, thwart and respond to ransomware attacks.
Ransomware is a serious threat, especially for critical infrastructure, government agencies, healthcare organizations and financial services institutions. The 2023 Verizon Data Breach Investigations Report found that ransomware remains one of the top cyberattack methods making up 24% of all breaches and 95% of incidents that experienced a loss cost between $1 and $2.25 million. With DirectDefense and Halcyon, businesses can eliminate ransomware payments, recover all encrypted data and work in process, and reduce recovery time to minutes.
"Anti-ransomware protection is essential due to the increasing prevalence and sophistication of ransomware attacks. Without it, organizations can fall prey to data loss, financial costs and business downtime," said Jim Broome, president and CTO of DirectDefense. "With Halcyon's AI-powered anti-ransomware engine, organizations can have peace of mind knowing that their valuable data and systems are safeguarded against one of the most prevalent and damaging cyber threats. This 60-day free trial will allow businesses to try anti-ransomware risk free with DirectDefense experts at the helm."
Halcyon's next-generation anti-ransomware solution stops attackers at all phases of a breach using a proprietary engine that specifically targets ransomware. Its pre-execution engine can prevent ransomware from executing without being connected to the internet and its platform exploits weaknesses commonly found in ransomware to force it to shut down or reveal itself before damage can be done. By capturing encryption keys generated by ransomware events, Halcyon blunts the effects of the malicious software and the platform's built-in resiliency engine enables effortless recovery post-attack if any layer was ineffective.
This offer is open to any new customers to Halcyon and DirectDefense. More information on the free 60-day trial can be found at https://go.directdefense.com/stopransomwarenow.
Follow DirectDefense
LinkedIn: https://www.linkedin.com/company/directdefense/
Twitter: https://twitter.com/Direct_Defense
Blog: https://www.directdefense.com/resources/blog/
About DirectDefense
DirectDefense provides enterprise risk assessments, penetration testing, ICS/SCADA security services, and 24/7 managed security services for companies of all sizes. Focused on building security resiliency, the firm offers comprehensive security testing services with specialization in application security, vulnerability assessments, penetration testing, and compliance assurance testing. Its team of highly talented consultants has worked with the majority of the Fortune 100 companies, in industries such as power and utility, gaming, retail, financial, media, travel, aerospace, healthcare, and technology. More information can be found at www.directdefense.com.
###